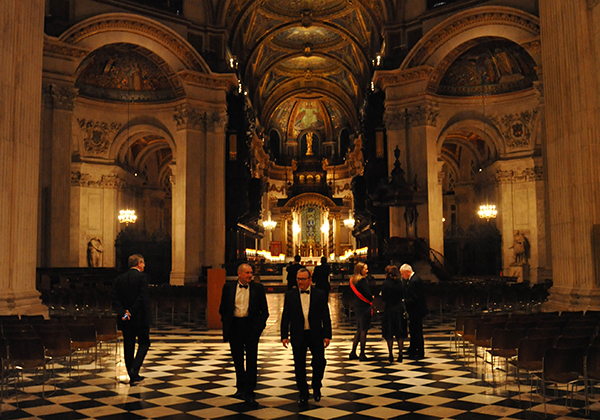 Last week we helped St Paul's Cathedral and London First celebrate the people, places and companies that have helped make London such a success over the past year through London First's London Awards 2014.
Entering through the stunning Cathedral, guests were greeted by the impressive and peaceful Cathedral floor and given their own personal tours, which included areas of the Cathedral that are off limits during the day, before being led down the beautifully lit stairwell to the white arches of Nelson's chamber.
Hosted by Baroness Jo Valentine, Chief Executive of London First, the five awards were announced using a slightly different format with each award being announced in between courses. The menu featured classic British dishes with a twist, including starter of wild mushroom soufflé with Twineham Grange cream, baby leeks and pink pepper biscuits, herb crusted lamb shoulder and rump, with vanilla parsnips, potato fondant and truffle jus for main course, and a much acclaimed and decadant pudding of white chocolate and Bailey's torte with pistachio brittle.
"The London Awards are a great way to recognise and celebrate the people and organisations that make London a great place to live, work and play," said Baroness Jo Valentine.
"The vision and creativity we see from both the winners and those that made the shortlist helps keep the eyes of the world focused on the capital.
"They are a constant reminder of London's dynamism and why it continues to attract the brightest and the best."
View the video from the evening below.
The complete list of winners:
Champion for London – sponsored by Thames Tideway Tunnel
Winner – Thomas Heatherwick, for the garden bridge concept, spanning the Thames between Blackfriars and Waterloo and helping make London one of the greenest cities in the world.
Improvement to Londoners' Quality of Life – sponsored by UK Power Networks
Winner – Argent for the King's Cross St Pancras development, transforming a dilapidated district into a new city quarter.
Investment in London's Future – sponsored by Grosvenor
Winner – The International Quarter, Stratford, for the joint venture between Lend Lease and London and Continental Railways that is transforming the Olympic Park to create a vibrant and dynamic commercial hub.
Contribution to London's Cultural Excellence – sponsored by Radisson Blu Edwardian, London, as voted by readers of Time Out
Winner – Danny Boyle, for curating Shuffle, a friendly and fun film festival that took over an old psychiatric asylum in Bow. It was staffed by volunteers and helped keep the Olympic spirit alive in east London.
London First Chairman's Award:
Winner – Sir George Iacobescu, Chairman and Chief Executive, Canary Wharf Group, for his special contribution to making London the best city in the world to do business. Amongst many other projects, he has overseen the regeneration of the Docklands and led the development of the nearby Wood Wharf residential area.
Venues in London | Venue collection | Landmark London venues | Wedding venues
Conference rooms | Party venues | Marquees London | Event catering
Catering services | Private dining
Harbour & Jones Events
Venue hire & event catering London
1st Floor, The Lightbox, 127–133 Charing Cross Road, London, WC2H 0EW

www.harbourandjonesevents.com | 020 3206 7750