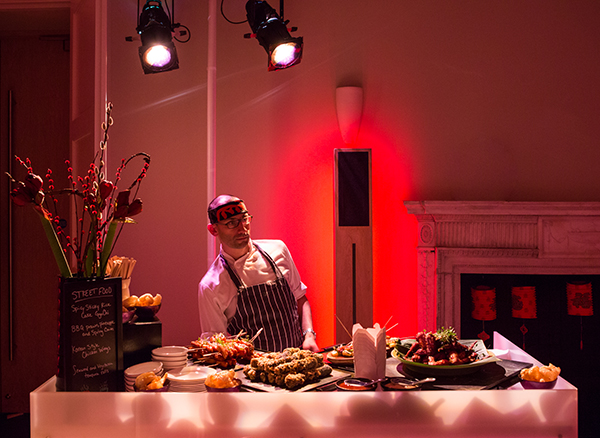 Last night, Thursday 20th February, RSA House welcomed 100 industry professionals including representatives from Espírito Santo Financial Group, ECL Global, Hillgate Solutions, Deva Events and Pure Consulting to its Chinese & Korean inspired New Year party 'Year of the Horse'.
Traditional Chinese music played in the background as guests were shown to the Benjamin Franklin room for the New Year party celebrations. The entrance of the room was flanked by plinths decorated with fans and the Chinese character for horse was projected on the floor leading to the room. Inside the Benjamin Franklin room Chinese lanterns suspended from the ceiling, the space was up-lit in hues of red and amber (to represent gold), lucky colours in Chinese culture and an oriental pattern was projected onto the floor creating a warm and inviting party space.
Waitresses in cheongsam dresses and tops (patterned traditional Chinese dress) served guests a selection of Chinese and Korean cuisine including canapés of curried kimchi pancakes, scallop, pickled mushrooms and kimchi. Three food stations were provided including a sushi bar,  street food stall dishing up spicy sticky rice cake, prawn tempura  and seaweed rolls and a  steamed bun a meat stall serving a range of pickles, crispy shredded duck with plum sauce and Teriyaki salmon. Guests enjoyed the Red Lotus cocktail (vodka, lychee & cranberry), peach and lychee bubble tea and Asashi beer.
A cheeky lion dance was performed accompanied by live drum, symbols and gong. Guests also had the opportunity hear their fortunes told and a calligrapher translated guest's names into Chinese, writing them on a book mark they could take as a keepsake from the evening.
The RSA House event team showed guests around the Great Room, which was set for a theatre presentation and four tables were styled in the four seasons, allowing guests to see how the space could be used to host a variety of events.
Suppliers of 'Year of the Horse' included styling by Event Concept, catering by Harbour & Jones Events, entertainment from Sternberg Clarke and floral design by Mary Jane Vaughan.
Venues in London | Venue collection | Landmark London venues | Wedding venues
Conference rooms | Party venues | Marquees London | Event catering
Catering services | Private dining
Harbour & Jones Events
Venue hire & event catering London
1st Floor, The Lightbox, 127–133 Charing Cross Road, London, WC2H 0EW

www.harbourandjonesevents.com | 020 3206 7750