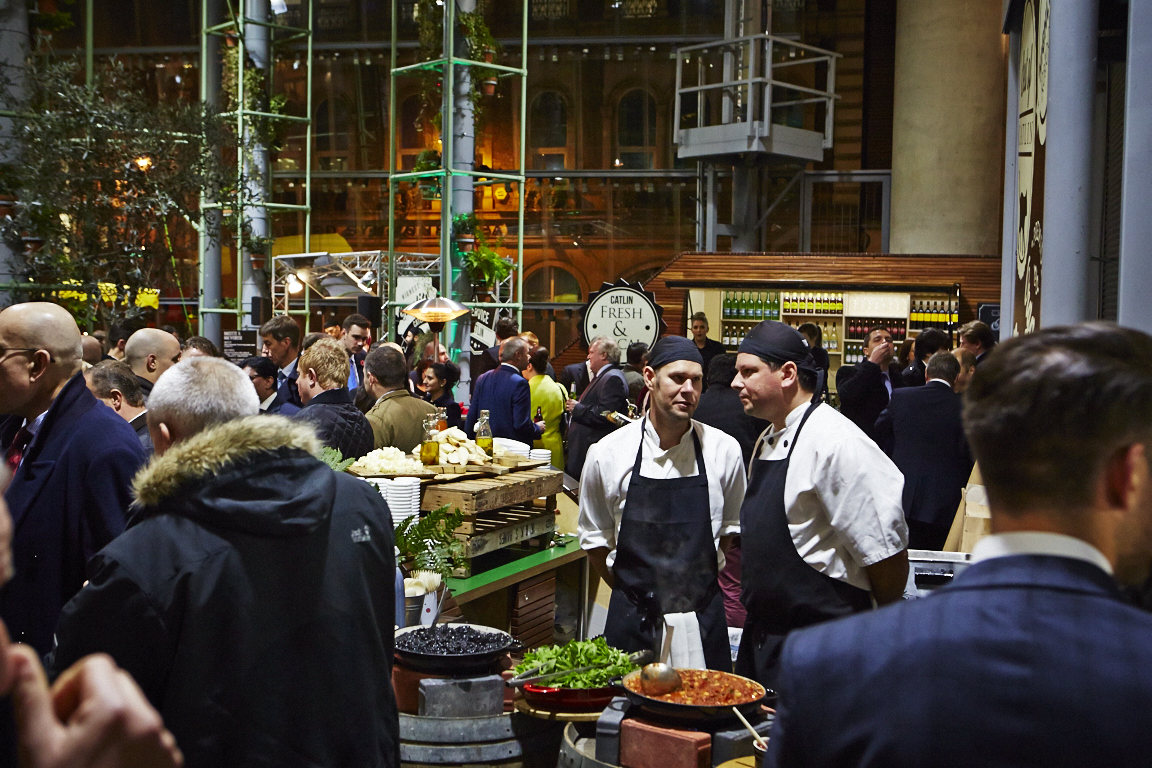 On 12 November, as the afternoon light faded and Borough Market's traders closed down for the evening, our team burst into action, bringing the historic market hall back to life for an evening of vibrant street food and vivacious entertainment.

Over 250 guests caroused in a feast of flavours from our Street Eats food stall concept, launched to critical acclaim earlier this year at St Paul's Cathedral.

Greeted by barrels of New Forest mulled cider, guests soon warmed up as they gathered around upturned oil cans that were transformed into table top fondue stations.

As the band warmed up and the drinks flowed, it was cheese galore at the bespoke branded raclette stall, with French bread, baby potatoes and pickles, loaded mac 'n' cheese and deliciously oozy Montgomery cheddar & sour dough toasties.

Korean yum buns tempted guests over to a tucked away corner. Steamed pillow-soft buns filled were heaped with slow cooked pork belly, miso glazed Portobello mushrooms or sticky chilli ginger salmon and served with kimchi, gyozas & Korean red dragon sauce.

There were winter warmers aplenty at the traditional pie & mash stall, complete with jellied eels, and we bought the Basque to Borough with baby chorizo butter bean stew, squid ink rice with calamari and carved Brindisa Iberico ham, all with a feast of breads, cheese, vinegars and oils.

Under the roof of one of London's most famous landmarks, passers-by on Borough High Street stopped catch a glimpse of the goings-on inside. The bustling market place was alive with music, laughter and the enticing aromas of the stalls.

Needless to say, the event was a roaring success and feedback was outstanding. One guest commented 'what a superb evening it was, probably one of the best I've been to in recent memory. The food, drink, entertainment and attention to detail were all outstanding, especially the branding' another said 'Literally the best corporate event I've been to in 20 years'. We couldn't agree more!

Borough Market is one of the newest additions to our venues collection. Find out more and enquire today.