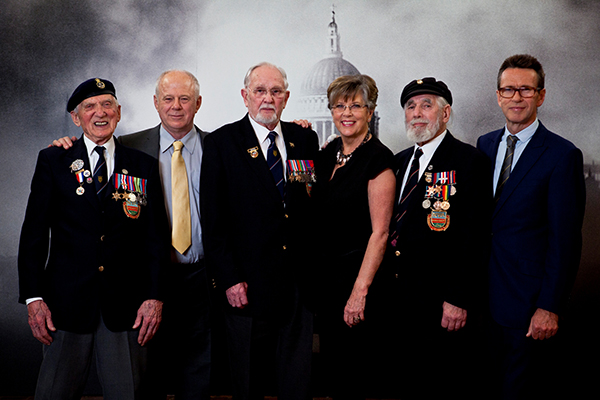 Prime Minister David Cameron will be the host of the final banquet of BBC Television's popular Great British Menu, broadcast from St Paul's on Friday 6 June – exactly 70 years after the D-Day landings.
Working behind the scenes to support the banquet is Harbour & Jones Events, who will provide kitchen support and run front of house.
Four of the UK's best chefs will create their Wartime-inspired menus for 60 guests that will dine in the crypt – the Cathedral's largest event space. Guests include D-Day veterans Ken Sturdy and George Batts; Churchill's granddaughter Celia Sandys; one of Churchill's War Cabinet secretaries, Joy Hunter; and Bletchley Park cypher clerk, Baroness Trumpington.
"D-Day is one of the most important moments in modern history and it's an honour to be involved in such a fantastic event," said Rosie Day, Corporate Events Manager, St Paul's Cathedral.
"St Paul's Cathedral served as a beacon of hope and Churchill famously said St Paul's must be saved at all costs, making the Cathedral a truly iconic and historic part of London, and the UK's, history."
From Monday 2 June to Sunday 8 June, Harbour & Jones, who also run the café and Restaurant at St Paul's, will be offering a free mug of tea and traditional British cake in the café to all WW2 veterans from any nation, who fought on foreign fields or the home front.
For the whole of June, the restaurant will also be looking to the past, creating a gastronomic twist on classic 1940's fare. Diners will be invited to 'dig for victory' in their own St Paul's vegetable garden, try bread and beef dripping and 'head to the shores' with cockle popcorn, malt vinegar and seaweed salt. Other classics include homemade bully beef hash, fried duck egg, broccoli and land cress or Clarence Court egg custard with asparagus and St George's mushroom soldiers, as well as 'Spam' hock terrine and Lancashire bomber rarebit. £1 from every set menu will be donated to The Royal British Legion.
The Great British Menu final banquet will be broadcast on BBC2, Friday 6 June at 7pm.
Click here to book a table in the Restaurant at St Paul's  or call 020 7248 2469.
Venues in London | Venue hire | Landmark London venues | Wedding venues
Conference rooms | Party venues | Marquees London | Event catering
Catering services | Private dining
Harbour & Jones Events
Venue hire & event catering London
1st Floor, The Lightbox, 127–133 Charing Cross Road, London, WC2H 0EW

www.harbourandjonesevents.com | 020 3206 7750