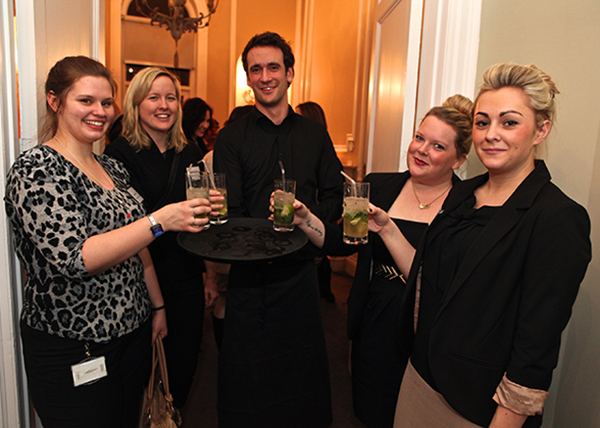 We're recruiting for a Senior Event Sales Executive at one of London's most prestigious venues, RSA House.


Working within the Harbour & Jones Events collection you'll have the opportunity to work at one of the most stylish and sought after venues in central London that was recently voted the 4th best in Event magazine's Top 20 UK Venues.
RSA House is one of London's hidden gems – tucked away just off the Strand, this magnificent Georgian building is home to elegant high-ceilinged ballrooms, cosy exposed brick vaults and stylish boardrooms
Read more about Harbour & Jones Events.
About the role
The objective of the Senior Event Sales Executive is to facilitate the catering and event management services for external functions and maximise income from sales of The RSA's conference and banqueting facilities. They will assist in all aspects of sales, administration, database maintenance and client liaison across all functions within the Sales office. Handling and networking existing accounts and past users to develop business and to generate new leads.
Key Responsibilities and Accountabilities
Sales and Business Development
• Management of events database via CRM system Rendezvous; contacting prospective customers by the appropriate method, handling all incoming enquires to the agreed standard (telephone, mail, letter).
• Log all enquiries, provisional and confirmed bookings on the database and ensure effective chase and trace system in place.
• Have excellent knowledge of The RSA House, the various room capacities, unique selling points and capabilities.
• Proactively find and confirm new business through sales initiatives.
• Generate leads by networking existing accounts, both current and lapsed, to develop new business.
• Conduct show rounds with clients as required, to the standards agreed in your induction.
• Prepare well written quotes and dispatch by email in a timely manner.
• Refer business to the Harbour & Jones Events venues where possible, whilst managing and keeping track of referrals.
• Sell events in line with client requirements and in a way that we can meet their needs.
• Work to achieve higher average spends per head through effective use of up selling techniques to each client.
• Call clients to confirm final details to ensure accurate handover to the operations team.
• Meet and greet clients at events and follow up post-event for feedback and further business.
• Assist in the organisation and running of promotional events including client hospitality at other linked venues.
• Assist as required at promotional events, trade shows and sales and marketing activities.
• Proactively identify suitable stories, images and information suitable for us to use on our range of social media platforms e.g. Facebook, LinkedIn and Twitter which will increase awareness and sales of The RSA House. Relationship Management
• Build and maintain strong relationships with colleagues and clients.
• Attend events meetings with the operations teams.
• Represent the sales team in an efficient, friendly and organised manner.
• Effectively communicate and share best practice with other Harbour & Jones Events venues Administration and Organisation
• Provide full administrative support for all sales activities and the sales department.
• Prepare accurate client invoices in a timely manner.
• Assist the client in credit control. Liaise with the RSA finance team to ensure reconciliation of Rendezvous records with RSA accounting records.
• Manage, maintain and update the sales tracker database, transferring data from excel onto the Rendezvous system.
• Report on sales activities and achieve set targets as agreed with line manager.
• To possess knowledge of competitors pricing, packages and products.
• Be commercially aware with an understanding of finance and profitable business.
• Liaise and consult with the line manager about enquiries, opportunities and bookings daily.
• Efficient and environmentally aware usage of print and copying facilities, in order to minimise costs.
• Collate material as required by sales team to ensure materials are prepared in timely fashion for all sales activities and events meetings.
• Undertake basic office duties as required in a manner that appropriately presents the Harbour & Jones Events brand.
• Thoroughly brief the operations team pre-events.
Health & Safety
• To keep up to date with all COSHH and HACCP procedures and methods.
• To report any equipment and/or building fabric faults and any hygiene, health and safety hazard to the Compliance Director.
Occasional Responsibilities
• Actively offer support to other areas of the business at times when the sales team does not require assistance, or when business is quiet.
• Responsible for personal development, looking for opportunities to expand knowledge of industry trends in food and food service and creative selling.
• To attend training courses and attend H&J meetings when necessary.
How to apply

To apply for this position, please email a copy of your CV and a covering letter to the Sales and Marketing Manager, Tim Barrett-Jolley: Tim.Barrett-Jolley@rsa.org.uk
Venues in London | Venue collection | Landmark London venues | Wedding venues
Conference rooms | Party venues | Marquees London | Event catering
Catering services | Private dining
Harbour & Jones Events
Venue hire & event catering London
1st Floor, The Lightbox, 127–133 Charing Cross Road, London, WC2H 0EW

www.harbourandjonesevents.com | 020 3206 7750