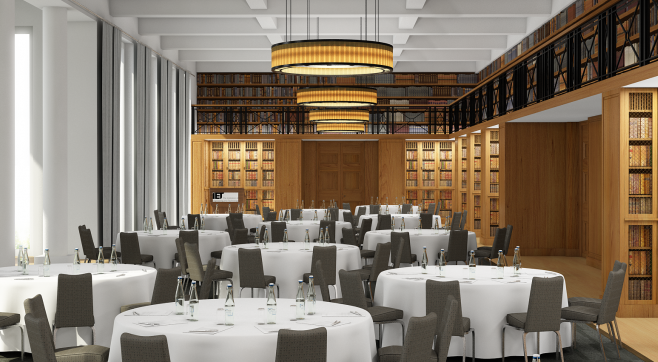 We are delighted to announce that IET London: Savoy Place is appointing Harbour & Jones Events as their sole caterer.

Providing an enticing range of bespoke day delegate packages, fine dining and event menus to the backdrop of panoramic views of London, we will be serving up to 330 delegates at a time at the IET London's flagship venue. The announcement comes as IET London moves into the final months of its £30 million refurbishment, which sees the development of a brand new roof terrace that will be available for meetings and private events from October.

Our Director of Food, Gary Mckechnie, will work closely with the soon-to-be appointed Head Chef. They will ensure that menus are carefully tailored to reflect both the venue, and our established credentials for renowned first-class customer service, all-inclusive pricing and innovative event catering.

IET London: Savoy Place has been closed since July 2013 and the major project aims to position IET London: Savoy Place as a first-class event facility and a 'Global Engineering Hub 'to IET members and the engineering community.

Sean Spencer, Head of IET Venues and Facilities, says: "Appointing Harbour & Jones puts into place one of the final pieces before we launch this new fantastic product for meeting and event organisers. With the highly innovative and creative approach Harbour & Jones takes to catering we are confident we will have built a first class venue that the industry will enjoy immensely."

Patrick Harbour, Director of Harbour & Jones Events, says: "We are delighted to be bringing our expertise and  experience in the event catering industry to the fore at the stunning new IET London: Savoy Place. Creating innovative and ethically sound menu options with the best that British produce has to offer, we're excited to find a like-minded partner in IET Venues and Events."

IET London: Savoy Place will open its doors for internal events on October 16, with the venue fully opening on 1 November 2015.

Be one of the first to hear about this fantastic new event venue by subscribing to our newsletter or making an enquiry.