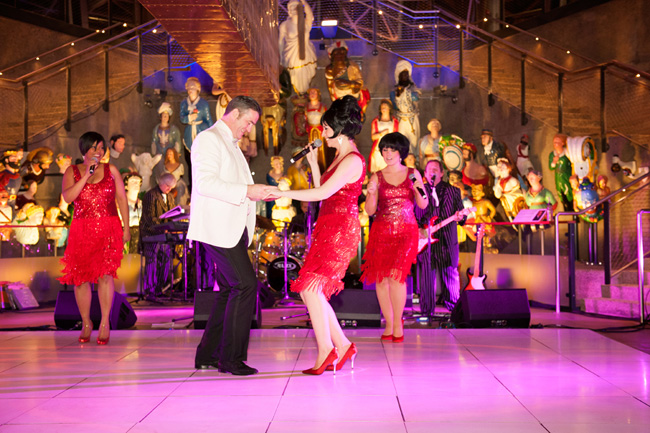 Two hundred esteemed guests from Harbour & Jones Events' little black book of venues, event agents and corporate clients, including St Paul's Cathedral, RSA House, Prince Philip House, JM Finn and JWT, descended on the Cutty Sark last Saturday 8th December for a fabulous 'All that Glitters Gotta Be Glam' (#allthatglitters) black tie party.

The glamorous affair was to celebrate Harbour & Jones' 1,000th event and coincided with co-founder Nathan Jones' 40th Birthday. Creative director Jules Heckman Hughes put the whole event together and was inspired by the glamour of Venetian balls using beading, ostrich feathers and glittered birds to adorn the tables, whilst using lighting effects to colour wash the venue in opulent hues of red and gold.

"We wanted to host the most glamorous affair possible and show our guests what Harbour & Jones Events is really capable of. However it was important for us to be true to the Cutty Sark and show how magnificent the restoration is and what a fantastic space it is for hosting dinner dances," she said.

"We also used one of the other decks as a chill out bar, complete with Cutty Sark Storm Whisky, and this is the first time this has been done too."

The menu evoked Jones' favourite food memories including mini pies and pints (tiny steak and mushroom pies accompanied with a miniature 'pint' of beef broth and mushroom foam), foie gras, Welsh lamb and Welsh cheeses. All were accompanied with matching wines for full gastronomic indulgence. This is the first time that an event caterer has hosted both a reception and dinner for 200 guests on the ship.

Jones said: "I'm delighted to share the evening with our accomplishment of reaching 1,000 events. The party shows how far Harbour & Jones Events has come in four years. Not only do we cater in some of London's most exclusive venues, we now offer a full event management service for clients, from venue sourcing to party styling."

Entertainment during dinner came from RADA graduates, another of their clients, who sang a mix of show tunes and operatic songs. Post dinner a fabulous 'Supremes' band opened with 'Nathan Jones' the song after which Jones was named. The soul sisters got the crowd shimmying and shaking to a raft of popular Motown hits. As a finale, famous DJ Slipmatt upped the tempo a few notches with house classics to round the evening off in true Jones party style.

Guests were able to keep up to date with photos and post party news on Twitter by following @HandJEvents and #allthatglitters.

Suppliers of 'All that Glitters Gotta be Glam' include production and lighting by Event Concept, floral displays from Veevers Carter and dinner entertainment from RADA graduates.