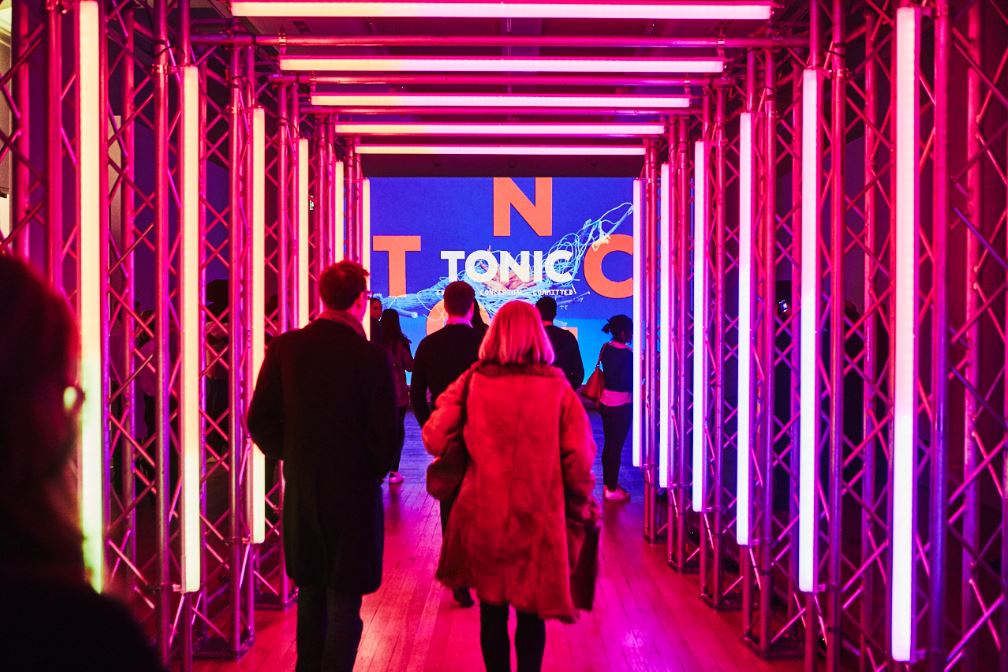 Last night we welcomed 300 event professionals to an evening of spectacle and discovery to launch the Science Museum's new spaces: Wonderlab: The Statoil Gallery and Mathematics: The Winton Gallery.
We were delighted to see so many friendly faces and hopefully wowed you with our food stall, canapé and bowl food creations. Guests attending the exclusive event were able to experience three of the museum's stunning spaces– the Media Gallery, Mathematics gallery and Wonderlab, whilst enjoying the launch of our new brand and the experiential catering and service concepts that come with it!
The event journey began for guests in the Media Gallery where they were able to discover the very latest event production technologies courtesy of Matrix UK Solutions. This included a small but very impressive selection of the leading edge technology they own. This ranged from their Meru Interactive servers, intense LED displays, networking and lighting capabilities, as well as a number of new and adaptable PA and video displays in the event space.
Next up for guests to explore was Mathematics: The Winton Galley. Opened in December 2016, the gallery has been designed by Zaha Hadid Architects and is the first of their projects to open in the UK since Dame Zaha Hadid's sudden death in March 2016. An acappella group – the Lips – kept guests entertained in the gallery, alongside Psio, a practitioner of the ancient science of Chaldean Numerology who can reveal the truth of an individual's personality and future via the numbers hidden in their personal details (both acts were provided courtesy of Sternberg Clarke). Guests were also treated to our bespoke cocktails and canapés all themed with mathematics in mind.
Finally, it was on to Wonderlab – the museum's most interactive, immersive and experiential gallery, where the main party commenced. Here, guests were able to discover over 50 exhibits in seven zones covering incredible science phenomena that occur around us every day.
Once in Wonderlab, guests were presented with 'The Theory of Food' – our thought-provoking and highly innovative menu. Our interactive live food stalls and science-based food concepts provided non-stop drama and surprise throughout the night. Toying with the physics of food whilst introducing new concepts and flavours, we took catering to another level to showcase our new brand.
Some classic flavour combinations, enhanced with innovative cooking techniques, provided out-of-this-world dishes that fitted perfectly with the spectacular venue. One particular favourite was a 'levitating' petri dish of delicate pasta pillows filled with flavoured butters, gin bubbles with a tonic cloud and samphire, topped off with tomato water bubbles. Guests also played hide and seek using infrared thermal cameras to 'forage' for cheddar doughnuts with cep sugar, BBQ duck doughnuts with HP gravy and puffed salmon skin with frozen salmon milk. Sweet and savoury lollipops were frozen before guests' eyes and included flavours such as green apple and tuna katsuobushi and Seville orange and salted duck skin.
Here's what our Director, Alastair Moir, has to say about the evening: "We are incredibly proud to have been given the opportunity to showcase our new brand at the launch of the Science Museum's three exciting new event spaces. We wanted to create a menu that could fit with the spectacle of using part of this superb British institution as an events space. A Tonic event focuses on the three Cs – creative, conceptual and committed, and we feel we really delivered this on the night with our highly innovative science-inspired menu full of surprises that kept guests talking and asking questions. Above all, it was an evening to remember."